Falun Dafa Information Center -
Evidence has surfaced of over 100 torture methods being employed by Chinese  police against Falun Gong (see also video on Youtube) practitioners in China's labour camps, detention centers, and mental hospitals.
Torture Methods (3) – Sexual Abuse
Well-known Chinese lawyer Gao Zhisheng wrote in his third open letter to Chinese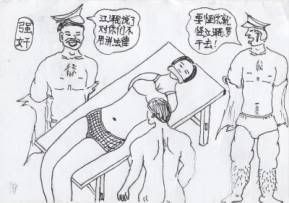 Chairman Hu Jintao and Premier Wen Jiabao on Dec. 12, 2005 that, "…… the immoral acts that shocked my soul the most were the lewd yet routine practice of attacking women's genitals by 6-10 Office staff and the police. Almost every woman's genitals and breasts or every man's genitals have been sexually assaulted during the persecution in a most vulgar fashion. Almost all who have been persecuted, be they male or female, were first stripped naked before any torture. No language or words could describe or re-create our government's vulgarity and immorality in this respect." This letter was written after his 15 days investigation of the persecution of Falun Gong ( see video on Youtube) in East and Northeast China.
(Picture above: illustration: Sexual Abuse on Falun Gong practitioner)
The forms of sexual torture include rape, molestation, shocking genitals with electric batons, raping Falun Gong practitioners with foreign objects (including toilet brushes and batons), shoving hot peppers into vaginas, pinching genitals or nipples even to the point of tearing them off, kicking genitals, piercing nipples with hot irons, stripping practitioners naked and beating them, forcefully administering drugs that cause menstruation to cease, and more.
The victims of such sexual abuse include young, unmarried women and seniors.
Cases
1. Young woman suffers mental breakdown following untold torture and rape (in 2004)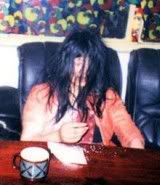 NEW YORK (FDI) – Thirty-two-year-old Ms. Zhu Xia cries, laughs, and often bangs on doors and windows madly. She soils her clothing uncontrollably, and has frequent hallucinations, tossing and turning restlessly amidst unseen enemies.
(Photo above: Ms. Zhu Xia, before and after sent to Brainwashing Center )
At night Zhu often throws her arms around her head defensively, screaming "Are you going to rape me?"
She has removed her blankets to sleep in the cotton fibers of her mattress and often curses "those terrible men," muttering she "can't take it anymore."
This is not the young woman her family members described as "healthy and vibrant" before the police took her away because she practices Falun Gong.
Like hundreds of thousands – perhaps millions – of others in China, Zhu was detained by Chinese authorities and sent to brainwashing classes in order to force her to renounce Falun Gong.
She was held at the Pi County Brainwashing Center in Xinjin County, Sichuan Province.
On April 2, 2004, Pi Country authorities released Zhu. According to her family, Zhu's mental and physical well-being had been devastated, and she had suffered a complete mental breakdown.
Zhu is no longer able to take care of herself, and is under the care of her mother.
The exact details of what Zhu went through in the Pi Country Brainwashing Center are unknown, although family members say her mental state and behavior leave little doubt she suffered untold torture and was repeatedly raped.
……
At the Dalian forced labor camp, numerous reports say women detainees have been hung spread-eagle from the ceiling as sticks and pepper oil are shoved into their vaginas – a torture technique known as "hip-splitting." The men are stripped naked and shocked with electric batons shortly after being doused with water to intensify the electric currents. ( Full report of this torture case)
2. Genitals shocked with electric batons for several hours (in 2001)

On June 4, 2001, Ms. Li Yinping was visiting a fellow practitioner's home in Majia Village of Shouguang City, Weifang region (Shandong Province) when police from the Shouguang Police Station arrested her and all other Falun Gong practitioners who were there. They were all detained at the Sunji Police station, although no legitimate criminal charges were brought against them.
(Photo left: Ms. Li Yinping)
On the afternoon of June 6, 2001, Ms. Li, along with the other detained Falun Gong practitioners, requested unconditional release. The policemen dragged Ms. Li into the hallway and beat her with a rubber baton.
After drinking alcohol, five to six policemen began another round of torture. They slapped her face, twisted one of her arms behind her back, grabbed her hair and pulled her head back, hit her all over her body with rubber batons, and shocked her with electric batons. The policemen stripped Ms. Li of all of her clothing to inflict more pain by beating her unprotected skin. After beating her, the policemen chained her to an "iron chair."
After taking a break, later on in the evening, the director of the detention center, Team Leader Wang, and other guards took turns shocking her genitals with electric batons. Her whole body was shaking, and had turned dark purple and black. She suffered severe pain, and lost consciousness several times. Each time, the guards revived her by pouring cold water on her so they could shock her again. One of the officers threatened to rape and kill her.
They continued to shock her with the batons even after she began spitting up blood. This torture lasted for several hours. Ms. Li was left chained to the iron chair, and she kept vomiting all night.
By early the next morning, June 7, 2001, Ms. Li had lost consciousness and her pulse was faint. She died later that day……. ( more details from Faluninfo.net)
3. A female practitioner raped by a police officer on the street ( in 2001)
On the evening of May 14, 2001, a female Falun Gong practitioner from Beijing was beaten and raped on the street by a patrolling plainclothes police officer. The right-hand side photo was taken 9 days later after the incident.
"Finally, I was beaten to the ground and was not able to get up. Two of my front teeth were knocked out; several places on my head were hurt; my body was swollen and turned purple; my bones felt like they were falling apart. He then hit my right ear and temple hard with a stick and I lost consciousness. At this moment he pulled me under a bridge, tore my pants apart, and raped me. After that, he inserted a plastic baton forcefully into my vagina, and rode on my body. When I regained my strength and was able to shout, I shouted with all the strength I had: 'Help! Catch this hooligan!' The man seemed to have no fear. Finally, he got on his bicycle and rode away in a hurry, leaving me behind."
4. Authorities order criminal inmates to strip, beat, and sexually abuse Ms. Liu Runling ( in 2002)

"Liu Runling, aged 38, resident of Hebei Province, was reportedly arrested on 28 September 2001 and detained at the No. 1 Detention Centre, where she remains.
"In January 2002, guards allegedly ordered several inmates to torture Ms. Liu because she refused to renounce Falun Gong. According to reports, they took her to a bathroom, where she was stripped naked and beaten. They reportedly inserted hair and used tissues into her vagina, and pierced her with needles for 40 minutes. It is reported that this left her covered with wounds and needle holes, and both her breasts allegedly turned black."
– Report of the United Nations Special Rapporteur on violence against women, its causes and consequences; UN document number E/CN.4/2003/75/Add.2
5. Chinese Police Raped Female University graduate student while the other inmates watched ( in 2003)

NEW YORK (FDI) – On May 13th, 2003, policeman from the Chongqing City Detention Center stripped and raped a female graduate student as other prison inmates looked on, according to sources from Chongqing University in China.
Ms. Wei Xingyan, a 28-year old Chongqing University graduate student, was arrested on May 11th along with a group of other students and teachers for hanging banners and balloons commemorating May 13th, the official anniversary of the introduction of Falun Dafa (also known as Falun Gong).
According to witnesses, on the evening of May 13th, several policemen took Wei to a cell in Baihelin Detention Center of Shapingba District. There, witnesses say the police officers forced two female inmates to strip her, and one of the uniformed policemen pushed her to the ground and raped her as the other inmates watched……. ( more details of this case)
6. Two Female Falun Gong Practitioners Raped by Chinese Police after Shocked by Electric Baton (in 2005)
"Around 2:00 p.m., a policeman named He Xuejian took Ms. Liu to a room with two beds in it. A very tanned policeman in his early 30′s with the nickname Dajun was laying on one of the beds. There was another policeman in his 40′s surnamed Wang in the room.
(photo: Ms. Liu Jizhi suffered from brutal beating and rape. Her hips and thighs are severely bruised.)
"He Xuejian savagely beat Ms.Liu as soon as they entered the room. Next he pressed her against a bed and started groping her breasts. Then he lifted her shirt up and shocked her breasts with an electric baton. While watching the sparks from the stun baton, He Xuejian repeatedly commented, "This is fun! This is fun!"
"The policeman surnamed Wang watched and said fiercely, "Beat her up! Beat her up good!" Then he left the room.
"Despite Ms. Liu's protest and struggle, He Xuejian stripped off her shirt and sat on her stomach. Then he began to poke at her genitals with his finger. Then he switched to another position in order to remove her pants.
"During the struggle, Ms. Liu pleaded, "I am thinking for your own good—don't do this to me! You are a policeman! You must not commit such a crime! This is totally wrong! You are a young man! I am an old woman. Please spare me." He Xuejian ignored her plea and violently raped her. During the rape, He Xuejian repeatedly slapped her face and choked her." …… ( more details from The Epochtimes' report)
Page: 1 2 3 4 5 6 7 8 9 Next >>
<< Photo: China Modern Torture Methods (2)- Electric Shock
>> Photo: China Modern Torture Methods (4)- Psychiatric & Drug Abuse
Related:
- List of China Modern Torture Methods (slideshow)
- China: 2508 Family Members' Open Letter Expose Torture, the Epoch Times, Dec 11, 2006
- Lawyer's 3rd open letter urge China to stop the Brutality(1), December 12, 2005, Gao Zhisheng
- Video: What is Falun Gong (falun Dafa), on Youtube
- Video: Why is Falun Gong persecuted in China, on Youtube