Falun Gong Human Rights Working Group-
Evidence has surfaced of over 100 torture methods being employed against Falun Gong practitioners in China's labour camps, detention centers, and mental hospitals.
Torture Methods (11) – "Tiger Bench"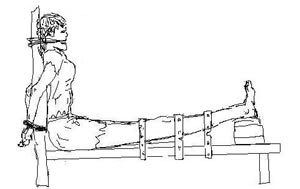 During this torture, police tie the victim's legs tightly to the tiger bench using belts. They then put bricks or some other hard objects under the victim's feet. They keep adding layers of bricks until the belts break. Victims endure unbearable pain and often pass out during these torture sessions.
Other tortures are often used on the victim at the same time, including shocking the victim with electric batons, cuffing the hands behind the back, burning the body with cigarettes, inserting wood slivers under the fingernails, stabbing the ribs with a sharp pen, hitting the cheekbones with a screwdriver, slapping the face, pricking thumbtacks into the face, and even reining the mouth with a rope (oftentimes the victim cannot close his mouth since the two corners of the mouth have been torn.)
Cases
1. Woman tortured to death
Ms. Wang Shouhui, resident of Changchun City, Jilin Province, Northeast China
" On April 11, 2002, Ms. Wang (Shouhui) was walking down the street when she was again abducted by the police from Zhengyang Police Station of Luuyuan District. She was blindfolded by the police from the First Division of the Changchun Public Security Bureau and was taken to a secret torture room in Jingyueshan, Changchun. She was tortured on the tiger bench for two days and one night, during which time she was also beaten with two electric batons on the breasts.
Three men used their fists to punch her face, chest, and back. As a result, Ms. Wang's left cheekbone was fractured and she vomited a great amount of blood. Later, her lungs were infected.
While at the police hospital, Ms. Wang's four limbs were confined when she received infusions. She was prohibited from using the restroom. Instead, the hospital forcefully inserted a tube into her bladder, but did not give her care. She could not move for five days and five nights. Subsequently, her bladder was permanently damaged and she could no longer control her bladder." - from lawyer Gao Zhisheng's 3rd open letter to Chinese Premier Wen Jiabao and Chairman Hu Jintao on December 12, 2005 in Changchun City
" At 4:20 p.m. on October 28, 2005, Ms. Wang Shouhui (mother) and Mr. Liu Boyang (son) from Changchun City were followed by 6-10 Office staff and were illegally arrested. The two were brutally tortured by the police. At about 8 p.m., 28-year-old Liu Boyang died from the torture. About 10 days later, his mother was also tortured to death." - from lawyer Gao Zhisheng's 3rd open letter to Chinese Premier Wen Jiabao and Chairman Hu Jintao on December 12, 2005 in Changchun City

2. Li Yanming, female, resident of Changchun City, Jilin Province, Northeast China
On January 25, 2002, Ms. Li Yanming was taken away from her home by the police from Changchun City. The next day, several policemen took Ms. Li to a remote building where they tortured her for two days and two nights.
(Photo: demonstration: Tiger bench torture)
They forced her to sit on the "tiger bench," on which she was forced to sit straight up with her eyes looking straight ahead. Her hands were placed on her knees, and she was not allowed to turn her head, close her eyes, talk to anyone or raise her hand. She was severely beaten whenever she moved a little bit on the bench.
The severe beating left her arms paralyzed and she could not even eat anything for a few days.
3. 63-Year-Old man Tortured to Death on the "Tiger Bench"
Li Xuechun, male, 63, a retired worker at the Macheng City Light Industry Bureau, resident of Macheng City, Hubei Province
Because Mr. Li Xuechun went to Beijing to appeal to the government to stop persecuting the practitioners of Falun Gong, he was arrested and severely beaten to the point that he could not walk for a long time.
In the Gulou Police Substation, Macheng City, Hubei Province, Mr. Li was tied to a "tiger bench." Six groups of police personnel took turns to interrogate and beat him. During this process, Mr. Li was not given any food and was not allowed to sleep. He was detained and tortured for three months.
In late December 2000, Mr. Li died from the repeated torture sessions. He left a letter with his son, describing his torture. However, the government confiscated the letter. The government officials threatened Mr. Li's son with arrest if he ever talked about his father's death.
<< Photo: China Modern Torture Methods (10)- "Death Bed"
>> China Modern Torture Methods (12)- "Hell Confinement"
Related:
– List of China Modern Torture Methods (slideshow)
- Youtube Video: What is Falun Gong (falun Dafa)
- Youtube Video: Why is Falun Gong persecuted in China
- China: 2508 Family Members'Open Letter Expose Torture, the Epoch Times, Dec 11, 2006
- Lawyer's 3rd open letter urge China to stop the Brutality(1), December 12, 2005, Gao Zhisheng