Falun Gong Human Rights Working Group-
Evidence has surfaced of over 100 torture methods being employed against Falun Gong practitioners in China's labour camps, detention centers, and mental hospitals.
Torture Methods (10) – "Death Bed"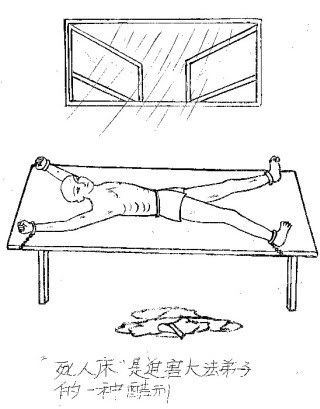 The "death board" (or "death bed") is a particularly hideous torture device. It is an iron or wood board with handcuffs and shackles to lock the victims four limbs in a stretched position.
A victim is usually confined to a death board for a minimum of seven days. As movement is completely restricted, the confinement of a victim on the death bed leads to painful muscular atrophy.
In severe cases, the victim even loses control of bladder and bowel movements. The excretion of stool and urine is directly on the iron bed, resulting in an unsanitary condition.
To save them-selves the trouble of cleaning, the torturers usually strip the victim down to a T-shirt or even naked, adding to the humiliation.
Since the victim is not released from the board for many days, torture on the death board is usually coupled with the torture of force-feeding.
The death board was originally devised for use against political dissidents subjected to the death penalty.
The muscular atrophy resulting from the death board torture will cause the victim to wither and collapse on the ground at the moment of sentencing making the government seem powerful and the victim defeated.
Cases
1. Ms. Song Yanqun, English teacher, tortured by death bed, body weight drop to 67 lbs in year 2006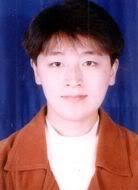 Ms. Song Yanqun (photo left) is from Shulan City, Jilin Province, North-east China. She is an English teacher from Dade Japanese-language School in Harbin City. She was illegally sentenced to twelve years of prison after the Shulan City Police Department Police abducted her on November 27, 2003.
In May 2005, she was tied to and stretched on the death bed when the prison implemented persecution to forcibly "transform" Falun Gong practitioners.
Since then, her legs have lost feeling and remain cold all day long and her right arm bones feel extremely painful.
She could not even write since her hands are shaky. Her brain feels numb and cannot function normally, and her lungs feel intense pain. The pulmonary tuberculosis is rapidly worsening.
The two-year torture has caused Ms. Song to become very emaciated. (more details can be found from this report )
2. Wang Xiufen, female, in her 30s, English teacher at Jilin Zuojia Special Products School, resident of Jilin Province
On February 4, 2000, the guards at Heizuizi Labor Camp, Changchun City, Jilin Province took Ms. Wang Xiufen to a room and confined her to a death board.
A guard then ordered a criminal inmate to open the all the doors and windows. They pulled her underwear down, and pull her T-shirt up to expose her to the cold wind.
Ms. Wang was left on the death board and in the cold for 18 days.
The torture left Ms. Wang paralyzed from the waist down, even after being taken off of the bed.
3. Wang Xiuzhi, female, college instructor, resident of Jilin Province
In May 2001, the guards at the Heizuizi Labor Camp assaulted Ms. Wang when they
saw her doing Falun Gong exercises. Five guards took turns beating and shocking her with electric batons. Afterwards, they confined her to a death bed.
(Picture: demonstration: death bed)
She was not able to get up and had to defecate and urinate on the bed.
This torture lasted 8 full days, during which time her arms were in an extremely painful position.
On the ninth day when they untied the belts, her arms were completely numb.
She was not able to take care of herself for two months after this torture.
<< China Modern Torture Methods (9) – Forced Abortions
>> Photo: China Modern Torture Methods (11)- "Tiger Bench"
Related:
- List of China Modern Torture Methods (slide show)
- China: 2508 Family Members'Open Letter Expose Torture, the Epoch Times, Dec 11, 2006
- Lawyer's 3rd open letter urge China to stop the Brutality(1), December 12, 2005, Gao Zhisheng